POZZUOLI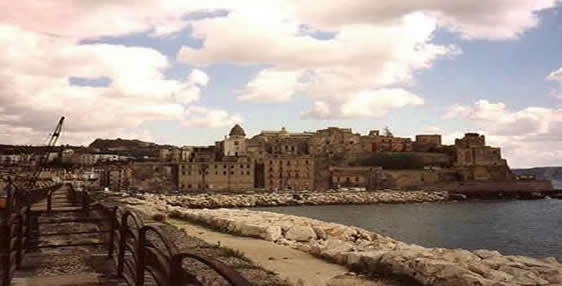 Solfatara
Here at the sunken volcanic crater Solfatara, you can truly experience the existential terrain of the Campi Flegri or Phlegrean Fields.  Just a short drive away from Naples and you find yourself in the middle of Solfatara, literally burning euphoric steam and bubbles rising from the ground over a dormant volcanic crater, The streets have been paved right over and are adjacent to this phenomenal site, you might be standing waiting at a red light and hot steam will be rising from the ground next to you.
Anfiteatro Flavio – Anfiteatro Grande
This site is one of the marvels of Roman architecture in the Campi Flegri area.  Built between 70 A.D. and 79 A.D. though some of the inscriptions found question whether perhaps the arena's construction was started under Nero during 54 A.D.-59 A.D. and merely completed later. The amphitheater had a seating capacity of 40,000. The underground area was used for the caged animals and the equipment to lift them up to the arena, as well as a sophisticated drainage system to collect rain water.
Procida
A pastel-painted waterfront at Marina Grande welcomes you to the island of Procida.  Atop Procida remain ancient walls and three towers that serve as the symbol of the island.  Preserved here is the abbey church of San Michele, with decorated domes. Procida with its strong contrasts the deeper, bolder blues of the sea and the delicate pastel colors of the facades has traditionally been a favorite of painters.
Ischia
Ischia is the largest island in the Bay of Naples and rises from the water in a series of points shrouded with lush vegetation.  Its volcanic hot springs have attracted visitors since antiquity.  Land at Ischia Porto, a beachfront promenade of cafes and shops intermingled with medieval buildings.  Also visit, Forio, Ischia's wine-producing center. The fishing village of Sant'Angelo lies on the southern side of the island where the landscape is greener and steeper.